(SpeleoArt, ISSA)
(46182FL)(AL FE)
Started caving with Plymouth Polytechnic Caving Club, 1978; Westminster Caving Club, 1980; Caving with AGH/SGH in Switzerland and France 1980-1997. Member of the National Speleological Society, NSS #48936. Moved permanently to the USA in 2000. Moved to Florida 2006-7 on sailboat Dreamweaver. Carolina works from her studio at her home in Largo, FL.
Exhibited in Great Britain and throughout Europe and the United States since 1985. Many paintings in private collections. Founder Member of International Society of Speleological Art (ISSA) 1994. Initiated SpeleoArt in 1997 as an organization for international speleo-art workshops and exhibitions. Founding Member of the NSS Fine Arts Salon 2000. Awarded the Spelean Arts and Letters 2007 and Fellowship to the NSS 2008. SpeleoArt is the contact base for speleo-artists worldwide and others interested in seeing, selling and buying speleo-art.
Caves have been a major part of my adult life. They inspire me, they thrill me, they smell good. I try to bring the taste of cave exploration to the surface by using the materials of the 'uberwelt' to depict color, mood and the intensity of texture.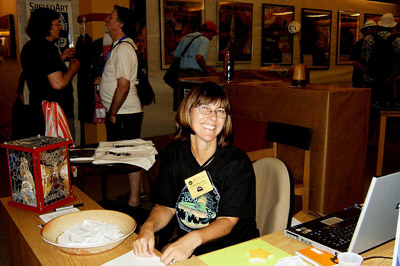 Carolina is the Chairman and Coordinator of the NSS Fine Arts Salon and SpeleoArt Workshops, Glenwood Springs, Colorado 2011.